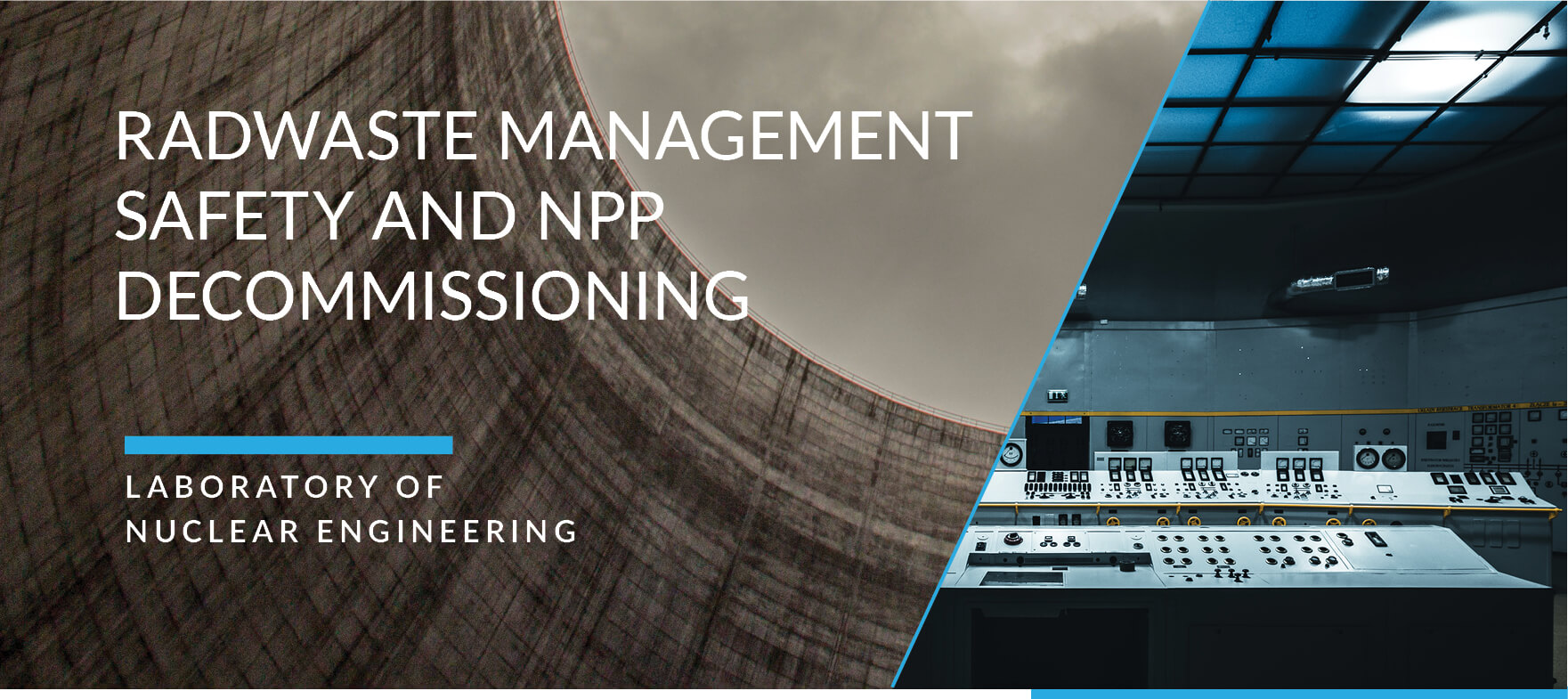 MAIN RESEARCH AREAS:
Safety of spent nuclear fuel (snf) management;
Safety of radioactive waste management;
Assessment of different factors related to decommissioning of nuclear facilities;
Waste heat recovery from flue gases during biofuel combustion and reduction of the amount of emissions from the exhaust;
Investigation of heat transfer and hydrodynamic processess in various systems and their components;
Fire safety investigation.
FOR BUSINESSES WE OFFER:
Analysis of waste heat recovery from biofuel and other heat generating installations in heat exchangers and condensing economizers as well as evaluation of perspectives on improvement of these installations;
Investigation of emissions exhausted with flue gases during biofuel combustion with electrostatic and other filters as well as evaluation of perspectives on improvement of these filters;
Complex investigations of heat transfer and flow hydrodynamics in various technological systems and their components;
Modelling of cooling and/or heating of complex multicomponent objects taking into account the influence of conduction, convection, radiation, solar insolation and other external factors;
Fire assessment of premises with combustible materials and fire resistance assessment of structures;
Detailed assessment of the thermal state of a complex construction installations present or potentially present in a fire area;
Identification of local overheating using the system of a microscope and a thermal imaging camera;
Modelling of radioactive waste and spent nuclear fuel characteristics, safety and environmental impact assessment of their treatment, storage and disposal facilities;
Modelling of hazardous substances and gas migration in geological structures (porous, fractured media);
Assessment of safety, environmental impact and other factors during nuclear facility decommissioning.
MORE ON OUR ACTIVITIES
Spent nuclear fuel management
Spent nuclear fuel (SNF) is a radioactive waste generated in a nuclear reactor, the management and storage of which are addressed on a global scale. After the closure of the Ignalina Nuclear Power Plant, care must be taken to ensure that the SNF generated in its reactors is disposed of in accordance with all safety and legal requirements and does not endanger human health or the environment. The Nuclear Engineering Laboratory performs modelling of fuel characteristics, of gas and radionuclide migration in geological structures taking into account thermo-hydro-mechanical-chemical processes. Also safety and environmental impact assessments for storage and disposal facilities in accordance with the latest regulatory and legal requirements. SNF management and storage issues are addressed at the international level through participation in IAEA initiatives, as well as by drawing on good practices from foreign partners. SCALE, MCNPX, MicroSkyshine, MicroShield, Visiplan, GOLDSIM, PETRASIM, AMBER, COMSOL computer codes are used for modelling of indicated processes.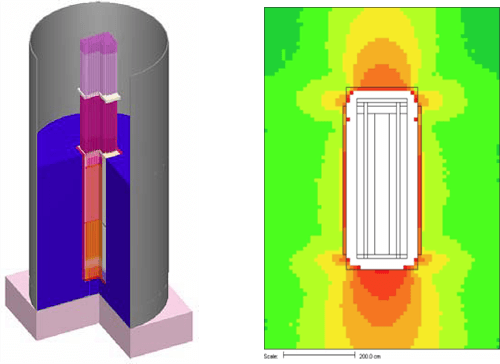 Modelling using SCALE comprehensive modelling and simulation suite
Radioactive waste management
Most of radioactive waste (RW) in Lithuania was generated at the Ignalina Nuclear Power Plant, and a small percentage is also generated in science, healthcare institutions and industrial enterprises. An RW manufacturer must handle them in line with the requirements of the Regulatory Bodies and in such a way as to ensure the safety of the workers, residents and the environment. For this purpose, the Laboratory performs assessments of the release of radionuclides from waste repositories, safety assessments of waste treatment technological equipment, storage and disposal facilities, and environmental impact studies. Radionuclide migration from repositories and other characteristics are modelled using GOLDSIM, PETRASIM, AMBER, GARDENIA, Visiplan, MicroSkyshine and other pieces of software.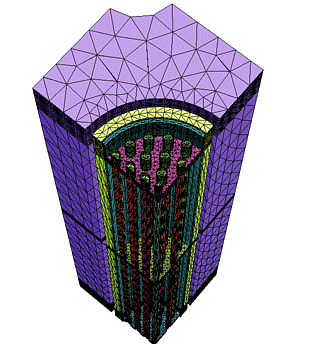 Modelling neutron, photon and electron (radiation) migration using MCNP-MCNPX suite
Decommissioning of nuclear facilities
Decommissioning of a nuclear facility (when the design lifetime expires, due to safety recommendations, etc.) is a process of implementing legal, organizational and technical measures that requires appropriate operating permits, licenses and, most importantly, safety assurance. In this area, the Laboratory researchers are experts in decommissioning and dismantling planning, costs and doses assessment for nuclear power plants and other nuclear facilities, as well as analyze and prepare radiological descriptions of sites, structures, systems and equipment, and carry out safety and environmental impact assessments of individual facilities. The work is performed using Visiplan, DECRAD, MicroSkyshine, MicroShield software.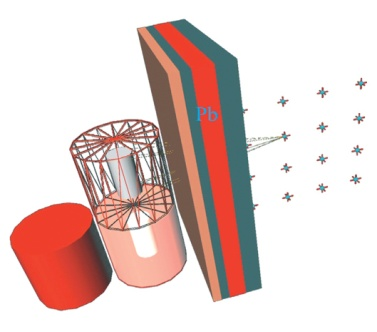 Modelling radiation dose with MicroSkyShine and MicroShield suites
Investigation of thermal processes
Investigation of thermal processes is carried out in various components of nuclear and non-nuclear facilities. Researchers of the Laboratory perform experimental investigations of heat and mass transfer processes and numerical modelling with ANCYS CFD, Comsol codes in channels of various types and designs. These investigations can be used to assess the reliability of different energy systems or heat exchangers. The researchers carry out investigations on forced and mixed convection, in turbulent and transient flow modes for single- and two-phase flows under the influence of variable physical properties, surface roughness, centrifugal forces, and other factors.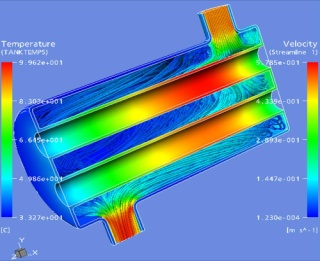 Modelling using 'Ansys Fluent' and 'Ansys CFD' software suite
Combustion of biofuels dissipates a lot of unused heat into the environment and emits pollutants due to technically outdated or inefficient equipment. The Laboratory performs scientific investigation aimed at improving the efficiency of energy generation in biofuel boiler houses by optimizing the technologies of flue gas purification (using electrostatic precipitators) and heat recovery from them. Research on heat and mass transfer processes in biofuel-fired facilities is being carried out in cooperation with Kaunas University of Technology and international partners.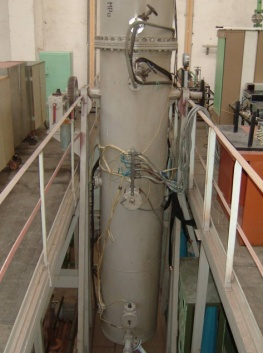 Experimental stand
Fire safety assessment in nuclear power plants and other significant facilities
Fire safety analysis is an important part of the safety assessment performed for a nuclear power plant as a whole or for its separate structures during operation or decommissioning. The assessment includes fire safety analysis for premises that accommodate combustible materials and construction fire resistance. A detailed assessment of the thermal condition of a complex structures located in a fire may be carried out for the fire and post-fire conditions.

Fire modelling using PyroSim suite
WHO ARE OUR EMPLOYEES?
Our employees are graduates from Kaunas University of Technology, Vytautas Magnus University, Vilnius University, and Vilnius Gediminas Technical University who studied thermal engineering, physics, applied physics, industrial thermal energy, biophysics, computer science, chemistry, mathematics, the English language and technical translation.
We are always looking for bright and curious graduates to join our team.
CLIENTS AND PARTNERS
Ignalina Nuclear Power Plant is the main and the largest customer of Nuclear Engineering Laboratory. We also successfully provide services to foreign customers and work with foreign and Lithuanian partners. We also implement competitive projects of the Research Council and other institutions of Lithuania.